IMRAM


print + typographic interpretation
​​​​​​​
As part of the IMRAM (Irish Language Literature Festival), my university classmates and I were tasked to interpret Irish poetry typographically.  My piece explores the poem
Bean róin
 from the poet Caitriona Ní Chléirchin. 
This beautiful poem discusses selkies. Selkies are mythical female beings who transform from a human form to a seal, by shedding their seal skin. The legend often goes that a fisherman finds the seal's skin, and entraps the woman for life, unless she finds her skin and returns home to the sea.
Bean róin
 addresses the fisherman, discussing how the selkie loves him, but is effectively living in two worlds. The line I chose to interpret was:
seal ina duine; seal ina rón
which translates to:
sometimes a human; sometimes a seal
The irony of seal being used in Irish felt like a nice nod to an English speaker, in reference to the story of the selkie. This decision would allow for people who couldn't speak Irish to be intrigued enough to engage further, and perhaps spark more interest in the language.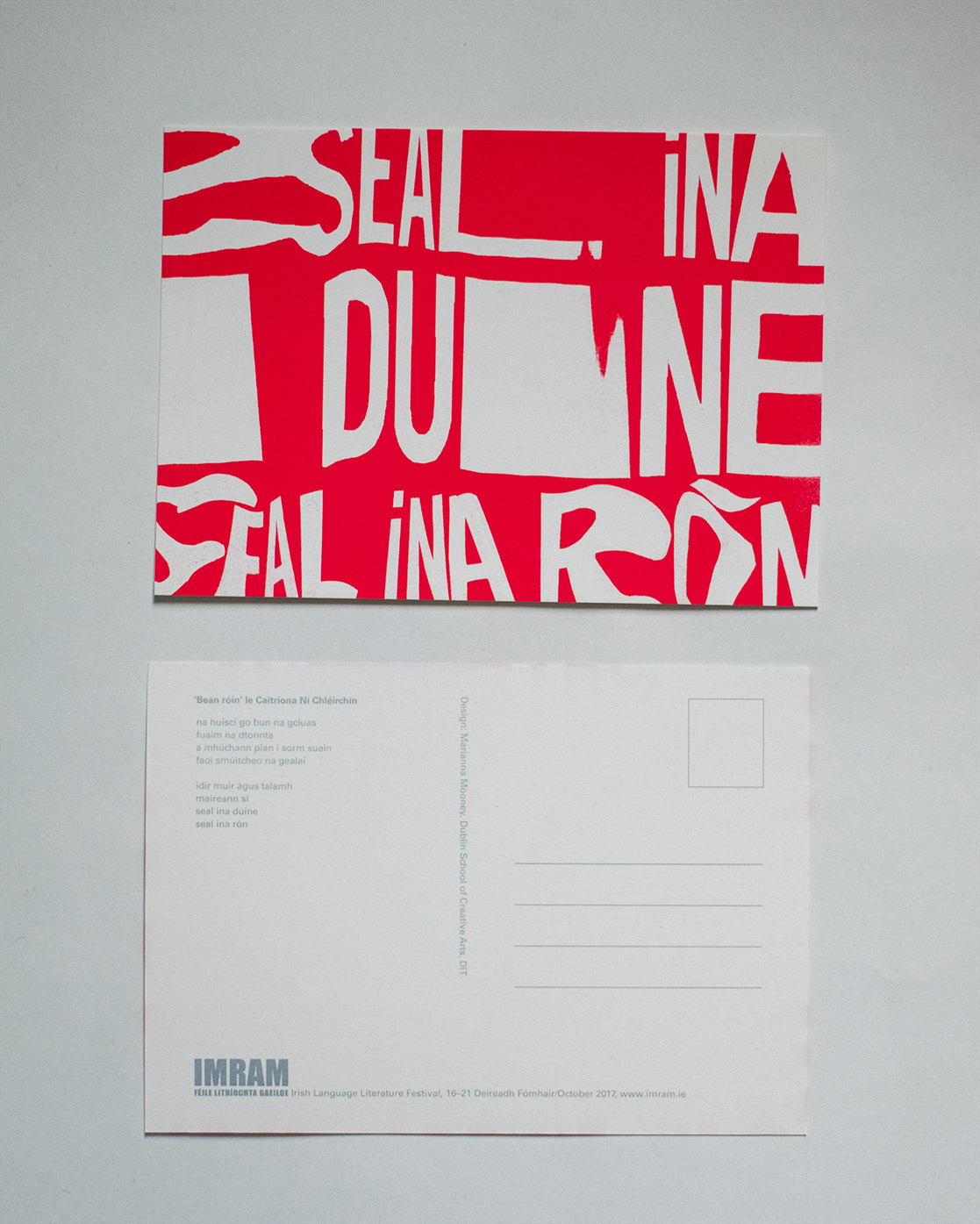 The words were altered in two different ways on a photocopier. The grain from this process allowed the typography to reflect sand and movement.
The cards were printed on 275gsm Artika Postcard in Plus Print. Our colour palette was Pantone fluorescent pink 812 U, Pantone silver 10262 U and Pantone black U. The special edition version of this postcard included 812 U on the back as well. 
I was fortunate to work with a group of amazing, talented individuals. Together, we created an installation of a three point wave. This project was included in the 100 Archives selection of 2017.